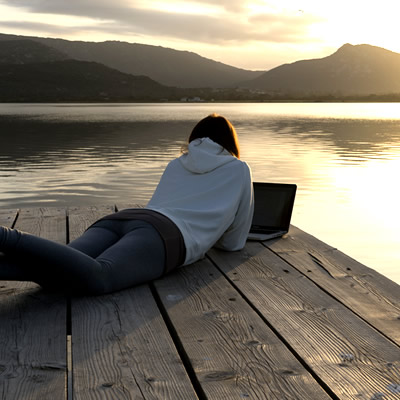 Remote Working: Delivering Results Wherever You Are
This course will enable you to:
Develop the skills and mindset to deliver results as an extremely effective remote worker
Recruit and manage remote workers, building trust and sharing your vision
Communicate effectively at a distance
Get to grips with how to run effective virtual meetings for ensuring attendees are engaged
Understand how creativity and collaboration can be developed by shared thinking and the right tools
The coronavirus pandemic means more of us are working at home than ever before. And that brings with it new challenges. The skills that have always enabled us to deliver results may now need to be supplemented so that we can continue to operate as high performing finance professionals. Working from home offers many benefits but it also causes an increasingly blurred line between work and home life, and it can be difficult to collaborate and communicate with your team effectively.
This course provides insight into how to ensure you're working from home efficiently. It will also address the challenges of managing remote workers and of recruiting new team members. It is filled with practical tips on how to communicate effectively as a remote worker, including how to run effective virtual meetings to enable engagement and collaboration to develop high performing remote teams.
Being an effective remote worker
Working remotely
Developing key skills
Setting up your workspace
Managing well-being
Connecting with virtual office-mates
Balancing work and home life
Managing your time
Avoiding distractions
Realising the benefits
Managing remote workers
Managing remotely
Approaching remote management
Recruiting remote workers
Recruiting virtually with Bloomberg
Building trust as a leader
Sharing your vision
Supporting your staff
Keeping remote workers engaged
Reviewing performance with Check-in
Ensuring health and safety
Resolving conflict
Communicating effectively
Communicating as a remote worker
Understanding the principles of remote communication
Overcoming challenges
Choosing the right methods
Promoting transparency with Stripe
Fostering two-way communication
Using non-verbal communication
Writing effective emails
Delivering unambiguous feedback
Moving away from email
Running virtual meetings
Getting the most out of remote meetings
Planning remote meetings
Choosing the right tech
Communicating on video calls
Facilitating remote meetings
Handling questions at Twitter
Ensuring everyone can participate
Building rapport in remote meetings
Minimising video-call fatigue
Collaborating remotely
Collaborating at a distance
Harnessing the power of virtual collaboration
Developing a team vision
Choosing the right tools
Establishing processes
Setting up communication protocols
Making effective decisions
Enabling creative thinking
Brainstorming online

ACCA partner with accountingcpd.net to provide high quality CPD for members. As an ACCA member, you are required to complete at least 40 relevant units of CPD each year, where one unit is equal to one hour. 21 units must be verifiable; the other 19 can be non-verifiable.
Verifiable CPD
Your accountingcpd.net course counts as verifiable CPD, if you can answer "yes" to these questions:
Was the learning activity relevant to your career?
Can you explain how you will apply the learning in the workplace?
You select courses that meet these criteria, and as you complete each course you get a CPD certificate so you can provide ACCA with the evidence that you undertook the learning activity.