Finance Data Analysis
Discover how data analysis can enable you to provide valuable insights to your business and clients. This pathway provides the tools, technologies, and methodologies you need to ensure you play a key part in decision making.
As finance professionals, we understand data and use it every day. How can we analyse data for the good of our business? Through this pathway you will discover what data analysis is and how to use tools and technologies to analyse data. Improve your knowledge of Excel, statistics, data visualisation and financial models, and learn how you can utilise new skills to predict and plan your organisation's future. This pathway will enable you to use data analysis to have a real impact on your business or clients, and to become an essential part of decision making.
This pathway addresses all of ACCA's seven key technical and professional data analysis skills as specified in their report "Analytics in finance and accountancy"
In this pathway
Learning
Supporting your journey to the next stage of your career
Analytics
The tools, techniques, and skills you need to provide valuable business insights
Flexibility
Learn where you want, when you want
Certificate of Achievement
21 verifiable hours of CPD, an assessment and a Certificate of Achievement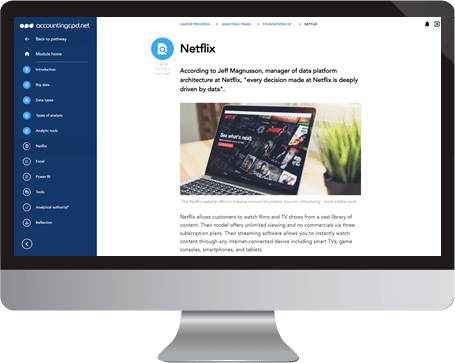 Learning resources
Immerse yourself in the rich variety of articles, videos, activities, quizzes, discussions, and more, to develop your understanding and skills.
Expert interviews
Find out how data analysis works like in the real-world from our prestigious team of experts in the areas of Excel, data modelling, visualisations, financial models, data protection and decision making in accounting.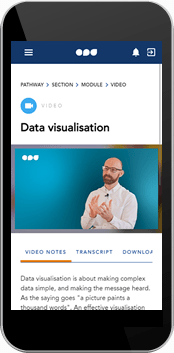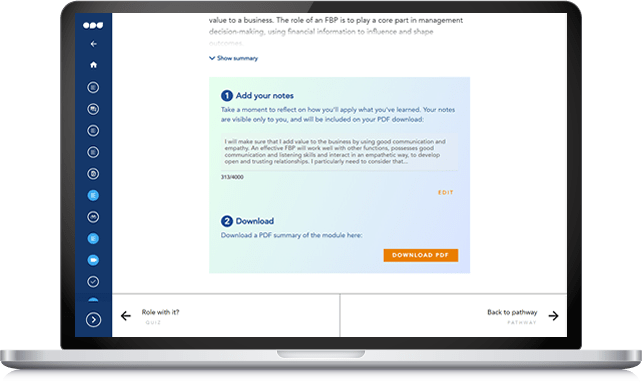 Action plan
Build up a practical plan of how you will put your new skills into action, and download a convenient summary of all the learning to take away.
Assessment
Achieving 75% on the multiple choice assessment is required to complete the career progression pathway. The assessment features two questions on each topic that has been covered.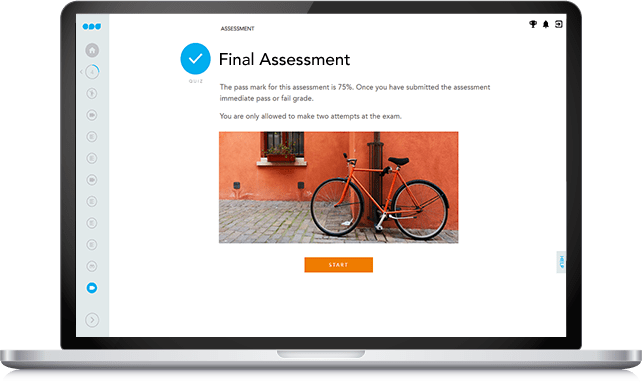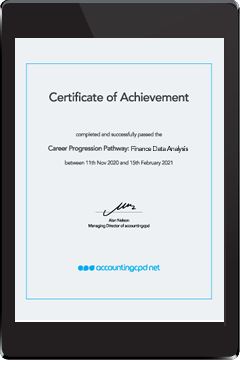 Secure certification
Once you've finished the programme, you will receive a unique and secure Certificate of Achievement as evidence of your new understanding and capabilities.
This Career Progression Pathway is divided into six sections corresponding to the key Finance Data Analysis skills you will need to develop. Complete all six to unlock the end of pathway assessment and access your Certificate of Achievement.
Data analysis presents businesses with a way of gaining insights and creating value, and it presents you with a chance to be the heart of that value creation. This first section introduces the concept of data analysis and looks at some of the basics involved in working with data.

Foundations of data analysis
Data protection
Analysing data

It is now easier than ever to use Excel to work with large and complex datasets, and as such it can often be your first port of call when analysing data. Here we cover some key Excel skills to have at your disposal, and look at how to clean and prepare data so that it is fit for purpose.

Recent improvements
Essential Excel skills
Data preparation

In this section we see how to use statistics to simplify your data, and how to create models and relationships between multiple tables and sources of data to help you uncover deeper insights.

Descriptive statistics
Hypothesis testing
Getting started with Power BI
Modelling with Power Pivot
Modelling with DAX

A core part of finance data analysis is telling the story of the data. You need to be able to present your findings in a straightforward and compelling way, so that they can be easily understood by others, whatever their level of technical expertise. Techniques available to do this include charts, graphs, reports, interactive dashboards, and more.

Communicating via data
Engaging dashboards
Highlighting issues

As well as looking backwards, data analysis can help you look ahead and better prepare your organisation for an uncertain future. One way to do this is to use financial models, which take existing data and extrapolate from that to predict potential outcomes and to support decision making.

Building spreadsheet models
Successful business simulations

At its core, data analysis is about to supporting your organisation to achieve its goals. Even the most accurate data analysis is pointless if you don't know how to use what you've learned to make an impact. Armed with insights from the data, your organisation can improve decisions and strategy, reduce costs, function more efficiently, protect itself from threats, and take advantage of the opportunities available.

Data-based strategy
Data-driven decisions
Business performance management
Technology disruptors

Once you have completed all the elements of the pathway, you can take the assessment to access your Certificate of Achievement.